January 2015 After five wonderful and successful years as a breeding stallion in Austria we have decided for Donaufischer to end his career at stud from 2015 on. Instead he will become our riding horse at Hoelle Stables and enjoy his life in the field along with our other horses. We are looking forward to this new situation and our first spring and summer together. Frozen semen (TG) of Donaufischer can still be purchased at the Veterinary University Vienna (VUW). Please contact Prof. Dr. Chr. Aurich.
November 2014
Donaufischer's son Hefaistos, born 2003, dam: Hedda by Induc, has moved from Denmark to Norway in summer 2014. We wish the new owner Mrs. Sarah Grotte lots of fun and success with Hefaistos and say thank you for the information and pictures. See "offspring".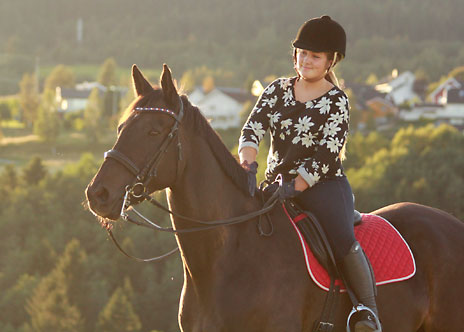 September 2014

Kapsch Arabians Stud sent us information and photos of their 2014 foals by Donaufischer, Dolomit and Davinci. We are happy to present these two, see "offspring".
August 2014
During the summer months these birth announcements reached us:
Dolomit Dam: Pyrola ox by El Sher-Mann ox, foaled July 2nd, Breeder: Dr. Kari Kapsch, Kapsch Arabians, Styria/AUT
Davinci Dam: Perla ox by El Perfecto ox, foaled May 21st, Breeder: Dr. Kari Kapsch, Kapsch Arabians, Styria/AUT
Ballsinfonie Dam: Ballbonita F by Axis, foaled Mai 17th, Breeder: Thorsten Koehler, Bohnenburg Stables, Wilhelmshaven/GER
Frischer Wind Dam: Forever III by Guter Stern, foaled April 24th, Breeder: Ing. Gerold Dornegger, Carinthia/AUT
Frischer Wind was invited to the Bavarian Foal Championships when classified by the Bavarian Foal Commission
May 2014
Donaufischer's daughter Donaufuerstin presented this year's Champion of the 3-year-old mares Donaublume by Cousteau at the Central Mare's Registration in Schleswig-Holstein (Germany). Donaublume received 57 points and is now, after successfully completing her performance test, Premium Mare! Congratulations to Hohenschmark Stud!
April 2014
In the early evening of April 20th Herzensfischer, a son of Donaufischer, was born in Baden-Wurttenberg by the "premium candidate" mare Herzensschoene vom Krotenbach (dam-sire: Schampus). Congratulations to the breeder and owner Sonja Mayer. See "offsping" for more information on Herzensfischer.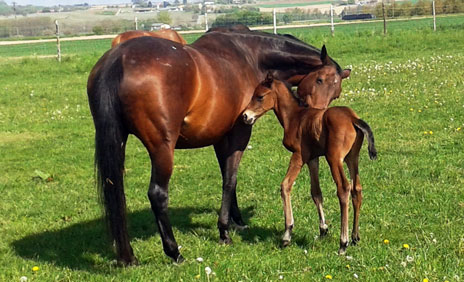 April 2014
Close to midnight of April 19th Donaustern von Alland was given birth to by the warmblood mare Nikita (dam-sire: Frisco). Congratulations to the breeder and owner DI Andrea Mann. See "offspring" for more information on Donaustern.

March 2014
In summer of 2013 a son of Donaufischer named Parsifal (aka Van Gogh), bred at Sommerlade, was found at a "dealer's" yard in Spain. He was in very poor condition. Juan Berges-Torres took the 8-year-old stallion to his stud and nursed him back to health until he showed his former brilliance. See "offspring" and read a short story on Parsifal.

Febuary 2014
At the regional meeting of the Trakehner region of Hessen five mares were mentioned which fulfil the criteria for state premium status. One of them is Donaufischer's daughter Donaufischerin by Donaukaiserin (dam-sire: Hohenstein). Congratulations to Dirk Schmidt (Trakehnerzucht-Schmidt), Schotten.
January 2014
Donaufischer semen depot for the USA: From this year's breeding season 2014 frozen semen is available in the USA and is distributed by "SUPERIOR EQUINE SIRES Inc.". Orders are to be made to Carol Austin, Bellingham, WA, Phone: 360-758-2808, superiorequinesires@gmail.com, www.superiorequinesires.com

November 2013
From Nov. 9th to 11th we went on a short visit to the young Trakehner Stud "Yeguada Sierra Norte" in Andalusia/Spain together with Erhard Schulte. Both Donaufisher's sons Poleo de Sierra Norte, dam: Polarstern and Monarca de Sierra Norte, dam: Pr.St. Monique were chipped, branded and registrered with very high marks by Erhard Schulte. The head of the stud, Juan Berges Torres had organised a meeting with numerous Spanish Trakehner friends, Eduardo Lozano presented the very well Spanish-style ridden Trakehner Herbsttanz and Juan showed his breeding stock, all in very good condition. We were thrilled to hear how passionate and devotedly the Spanish Trakehner riders and breeders are promoting the Trakehner horse in their country. Reports of the journey will be published in the Spanish magazines "El Caballo Yel Torro" 12/2013 and "Der Trakehner" 1/2014.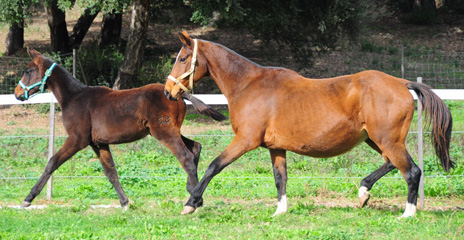 September 2013
Donaufischer's colt Understatement, dam: Pr.St. Umbra VIII by Herzkristall took part in the Foal Championships of Hessen/Germany on Sep. 7th and was awarded the title of "Champion Foal". Congratulations to the breeder Alexandra Becker/Trakehner Stud Benediktushoehe and all the best for Understatement (aka Puck), who will be raised professionally at Dierstorf from November on.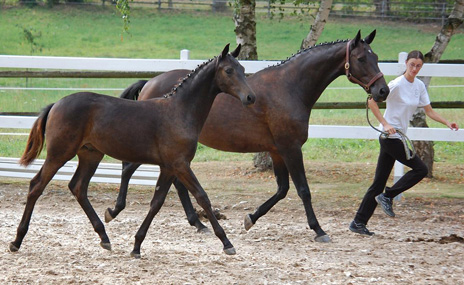 August 2013
Ikaros has taken part in the Bavarian Trakehner Foal Championships at Mertingen (Bavaria/Germany) on Aug. 25th and is therefore entitled "Championship Foal". Congratulations to his breeder Ms. Eva-Maria Aufrecht, "Unter den Birken" stud.
July 2013
At the end of this year's breeding season we thank all breeders wholeheartedly for their big interest in Donaufischer and for breeding their mares to him. We wish everyone the best of luck for this year's foals rearing and development and the same for pregnant mares and their births next year. A very hearty thanks to Prof. Dr. Aurich and her team of the insemination and embryo transfer station of the Veterinary University of Vienna for the thoughtful care of Donaufischer and the professional service for the breeders. Many thanks to Anne Thiel for her outstanding care, training, big commitment and especially affection and friendship to Donaufischer.
June 2013
On June 29th Donaufischer's arab-like colt "Donaugraf", dam: Damietta II ox by Drakon ox, was born. This very interesting colt is an Earl in his own right because his dam is from the famous Arab stud of the Countess of Arco and Zinneberg. See "offspring" for more information on Donaugraf and his famous dam Damietta II ox.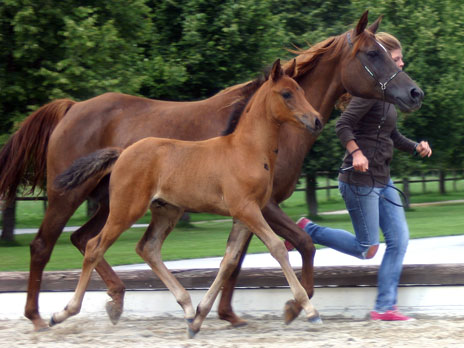 June 2013
In the evening of June 7th, "Ikaros" (Dam: Isabell XVIII by Tanzmeister I) surprisingly and spectacularly prepared to land. The control tower of "Unter den Birken" stud discovered the little "flying object" in time on its radar and guided him safely to the runway. See "offspring" for more.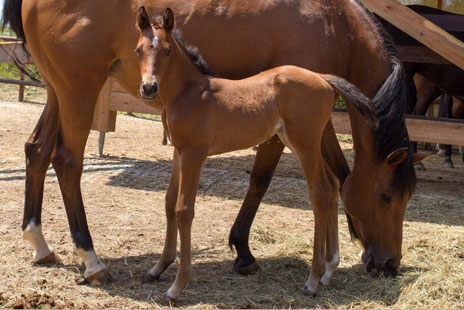 June 2013
Erhard Schulte came to visit us at the beginning of June. After assessment of the horses at "Fischerhammer Stables" of the Wessely family and at our "Hoelle Stables" we went to Vienna to see Donaufischer. Anne Thiel was just working him in the indoor arena and Donaufischer showed himself frisky and even a little fresh. Eye to eye with "Germany's hippological silver bullet" he finally listened to Erhard's words very attentively.
May 2013
Donaufischer's daughter Kornblume XVII has passed her Mare's Performance Test on May 29th with flying colours! She received marks for her gaits up to 8.5 and showed big potential in loose jumping scoring 8.5 for manner and 9.0! for scope! Kornblume was Champion Mare at the Central Registration 2008 and has now, after an immaculate breeding performance of 4 foals in 4 years more than earned the title "Premium Mare of the Trakehner Verband". Congratulations to "Reitsport-Dierstorf" to this great success.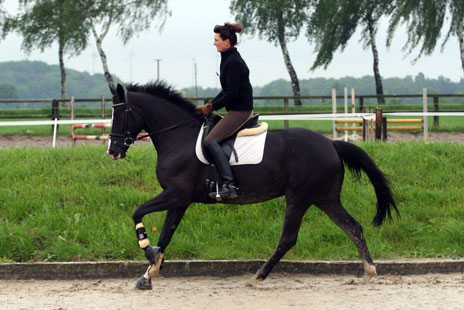 May 2013
See "offspring" for new pictures of the yearlings "Herzbienchen W" and "Drogba". Both have matured wonderfully and have developed into hopefuls at this young age already.
May 2013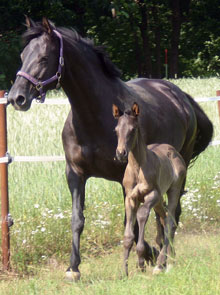 The Hannovarian mare "Wibke" by Wonderland and Donna by Diplomat has foaled on May 27th a very pretty and friendly colt by Donaufischer at Prikler-Juzek's stable (Parndorf/Burgenland/Austria). See "offspring" for more information on the handsome guy with the famous name "Doderer".

May 2013
At the Spanish Trakehner stud "Yeguada Sierra Norte" north of Sevilla on May 1st and 3rd two colts were born: "Poleo de Sierra Norte" (dam: Polarstern by Latimer) and "Monarca de Sierra Norte" (dam: Premium Mare Monique by Holme Park Krug) Both "Spanish Donaufish" are romping lively under the Andalusian sun and present themselves on our "offspring" page.
April 2013
Donaufischer proudly presents his new Spanish outfit: The numnah was a present of the Spanish Trakehner Stud "Yeguada Sierra Norte" near Sevilla. - Muchas gracias a D. Juan Berges Torres.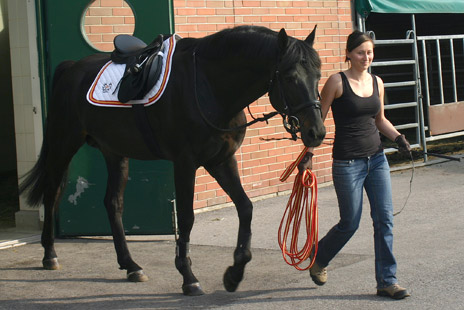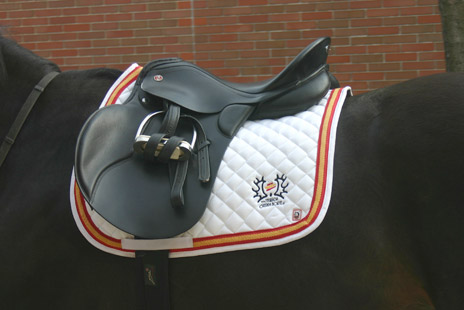 March 2013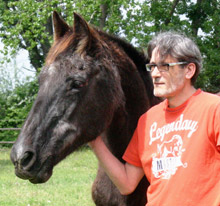 On March 27th we celebrated the 31st birthday of our St.Pr.St. Heubluete by Polargeist and Elite-mare Heublume by Kurfuerst. She was born at Webelsgrund Stud and is full sister of Champion-sire Holunder, who also reached this high age in 2012. Heubluete is fit as a fiddle, still boss of our little herd and far from retreating from her top position. Heubluete came to us at the age of 22, at 24 she gave birth to our filly Heuminze and we hope she will stay with us for a while.
March 2013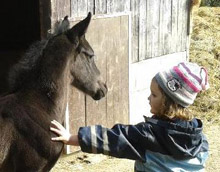 In the night before March 23rd a strong, energetic colt was born by Jade IV by Kostolany at the stud of the Priebe family in Baden-Wuerttemberg/Germany. His name is "Joker", see "offspring"

March 2013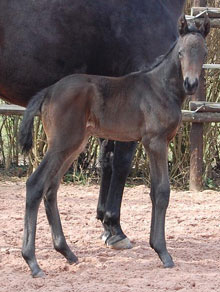 On March 20th, exactly at the start of Spring and on the mare's 10th birthday a 117 cm tall and extremely long-legged colt was born. The dam is Premium mare "Umbra VIII" by Herzkristall of the Trakehner Stud Benediktushoehe in Lower Franconia. See "offspring" for more information on this son of Donaufischer with the telling name "Understatement".

March 2013
On the first Sunday in March Donaufischer moved to Vienna into the breeding station at the University of Vet Sciences where he was keenly greeted by Anne Thiel. Meanwhile he has passed all necessary tests for being collected for artificial insemination and semen can be ordered any time.
February 2013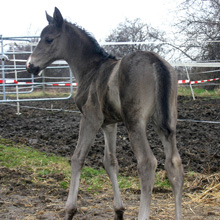 Donaufischer proudly presents the first of his crop of 2013: On Feb. 21st at 7:00 a.m. a stunning colt was born by Arnella (by Diamant) at Oggau/Burgenland. The definite name has not been found yet, meanwhile he will be called "Alberto". Description and pictures see: offspring

November 2012
Donaufischer is speaking english now. Many thanks to "Pferde Video Marketing, Horse Sales Consulting, DI Elisabeth Wimmer" for the "language-course" (translation).
August 2012
With a high number of mares covered and great interest from breeders, this year's breeding season was very successful. Donaufischer covered mares in Germany, Spain and Austria. Most of them are Trakehner mares but two warmblood mares and an Arabian mare are also in foal to Donaufischer. We thank all breeders wholeheartedly for their faith in Donaufischer and wish all of them all the best and good luck for their foals in 2013.
July 2012
On July 30th the breeding season ended for Donaufischer with a last spectacular day of work: In the morning semen for two mares had to be collected, after this the planned journey home was delayed due to heavy traffic on Vienna motorways. At 5 p.m. we could start the trip home at last. On arrival at "Hoelle Stables" after being greeted heartily by all his horsey friends he galloped off into the field for his holiday break.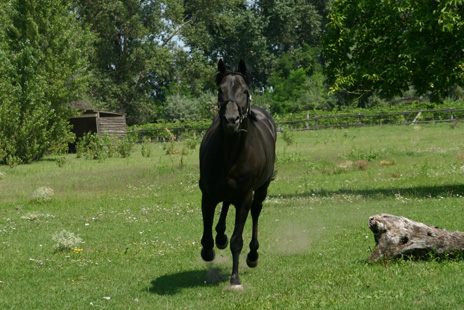 May 2012
A first video of Donaufischer is now on display at the new menu item Video. Thanks to Ms. Wimmer of " PferdeVideoMarketing" for production and for the commitment.
May 2012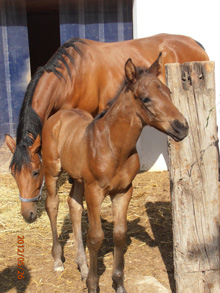 Drogba plays forward! On 20 May, a great colt out of the Austrian Warmblood mare Scarlett by Rascalino was born at the Schumich family's near Eisenstadt/Burgenland. A description and more photos of the future star - he has the name already – see under offspring.

April 2012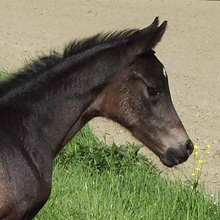 The first foal by Donaufischer 2012 is here! On April 25th Herzbienchen W, Dam: Herztaenzerin W was born at Gestuet Riegersburg/E& B. Wimmer. See under offspring for more pictures and a description of the "saucy little bee"

March 2012
Luise Wessely, Austrian National Champion in dressage and regional champion in eventing is betting on Raeuberhauptmann. The son of Donaufischer is on his way to the big sport and is being prepared by his owner and rider for Grand Prix. (See in offspring for more information on Raeuberhauptmann)
December 2011
The premium mare Godelia by Donaufischer and Genia IV by Guy Laroche was awarded the title of "state premium mare" (St.Pr.M.) this year. Congratulations to the breeder and owner, Mrs. Becker.
August 2011
The best foals of the Schleswig-Holstein/Hamburg Breeding District met on August 7th for the foal championship at the Tasdorf Stud. Donaufischer's daughter Donaufuerstin, Hohenschmark Stud, presented the first Reserve Champion with her filly by Cousteau .
August 2011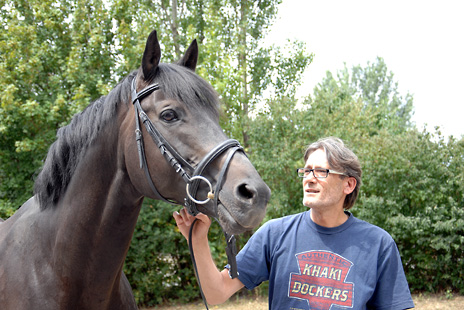 This past season was exciting and successful for us. Donaufischer was always in a good mood and did his job professionally. The percentage of pregnancy is at a sensational 100 %. Except for one mare, which needed several tries, all other mares became pregnant with only one insemination. Many thanks to all breeders and Trakehner friends for the great interest, the many inquiries and of course inseminating your mares with Donaufischer. We are looking forward to all the foals next year and wish you all the best, much luck and soundness for them.
Juli/August 2011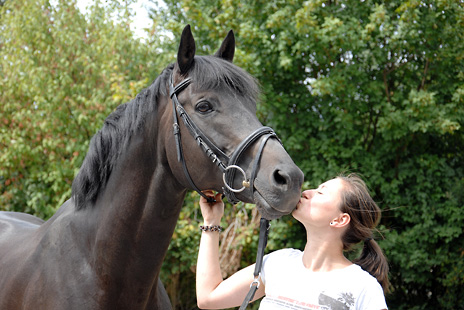 At the end of the breeding season it's hard to say good bye.
For Anne Thiel and Donaufischer the well-deserved vacation begins. Anne will recover from her studies at the Vet.Med. University at home in Berlin and in Ireland, Donaufischer goes back home to Hoelle Stables and will enjoy the freedom of the pasture. As of the 2012 season, the two are a team again. Thanks to Anne for her commitment and for the great service and support .
July 2011
At the foal show with awards on July 3rd at Hoerstein, Donaufischerin presented the Champion foal with her Camaro offspring in the ring of foreign stallions.
June 2011
Donaufischer's daughter Cammee passed her mare's performance test on June 18th at Mainburg/Bavaria with a mark of 7.14 successfully with highlights in loose jumping. Cammee was awarded the premium title at her registration 2009 at Mainburg and even improved her marks this year to a total score of 54 points. Cammee is now carrying the title premium mare of the Trakehner Verband (Verbandspraemienstute, Pr.M.) See in offspring for more
October 2010
Daughter Mona Lisa (Dam: Miss Marple by Kostolany) was best 4-year-old at the mare's performance test of the breeding district Rheinland/Germany.
Mai 2010
Daughter Donaufischerin (Dam: St.Pr.& Pr.M. Donaukaiserin by EH Hohenstein) became reserve champion of the 4-year-olds at the mare's registration in Hessen.