This is the page for all of Donaufischer's daughters and sons. No matter if broodmare, sire, sporthorse or hobby horse, here is our space to show your Donaufischer progeny. We are happy to receive your report, any information and pictures of your horses. Please send your article to:
p f e r d e [ÄT] d o n a u f i s c h e r [PUNKT] e u
We will try to publish your contribution as quickly as possible. The order of the presented horses is due to availability of articles and photos.
Mares
Pr.M. Donaufuerstin
Dam: Donaufreude III Dam sire: EH Friedensfuerst
Owner: Gestuet Hohenschmark
The great, large-boned Donaufuerstin was champion of the 4-year-olds at the central mare Registration in Schleswig-Holstein and is marked by three gaits way above average. She is a broodmare at Hohenschmark Stud and has born two typey, well moving fillies by Redecker and Cousteau.
---
St.Pr.& Pr.M. Donaufischerin
Dam: St.Pr.& Pr.M. Donaukaiserin Dam sire: EH Hohenstein
Owner: Trakehner Stud Schmidt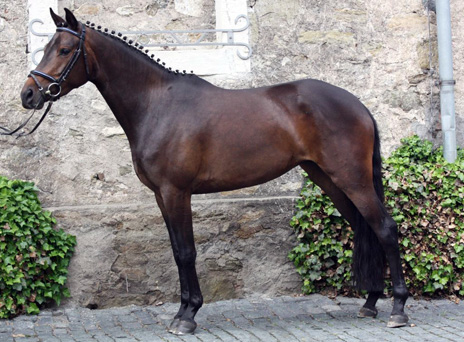 Donaufischerin was reserve champion of the 4-year-olds at the central mare Registration in Hessen in 2010 and passed her mare's performance test successfully with a mark of 7,38. The typey, very modern and very well moving mare of best descent and beautiful temperament has the highest potential for breeding and sport.
---
Pr.pr. Pommernlied
Sire: St.Pr.& Pr.M. Perkallen II Dam sire: EH Friedensfuerst
Owner: Trakehner Stud Traupe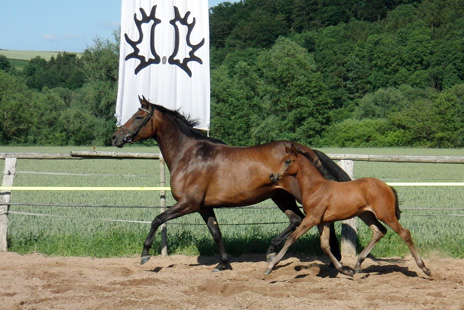 Pommernlied was acclaimed Premium prospect at the central mare Registration in Niedersachsen-Hannover and won the 1c-prize at the federal show of Hannover. Picture: Two big movers with flair and charisma, Pommernlied and her wonderful filly Petit Fleur by Axis
---
St.Pr.& Pr.M. Mona Lisa
Dam: Miss Marple Dam sire: Kostolany
Owner: Ilse Henselmann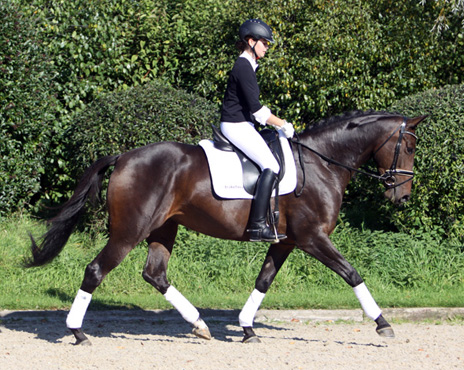 Mona Lisa was awarded Premium prospect in 2009 at the central mare Registration of Rheinland and was trained for her mare's performance test at the breeding and training stables of Ulrike Sahm-Luetteken and Karsten Luetteken. After only four weeks under the saddle of Sophie Albrecht she won her class of 4-year-old mares masterfully and was awarded her double Premium title.
---
St.Pr.& Pr.M. Pergamon
Dam : ESt. Pepelniza Dam sire: EH Sokrates
Owner: Trakehner Stud Meierhof, Heise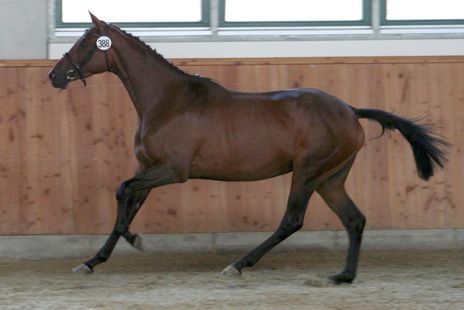 With her elitist pedigree, the noble Premium mare Pergamon is one of the high class mares of Beate and Wolfgang Heise's Meierhof. In 2009 and 2010 her foals won the championship, with Prada by Zauberfuerst she even had an elite foal for Neumuenster.
---
Traeumchen
Dam: St.Pr.& Pr.M. Traumliebe Dam sire: EH Caprimond
Owner: Breeder's association Daenecke-Schwarz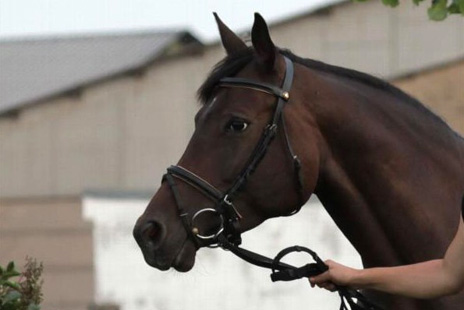 Donaufischer's magical beautiful daughter Traeumchen, by the top mare Traumliebe and line bred to the great Caprimond impresses by her rideability, temperament, wonderful character and very good gaits. She has shown her breeding potential in her first 3 breeding seasons by foaling two fillies by Herzog v. Nassau and Laurel and a colt by Krokant.
---
Pr.M. Violetta
Dam: St.Pr.& Pr.M. Voila Dam sire: EH Hohenstein
Owner: Silvana Bobba, Washington, USA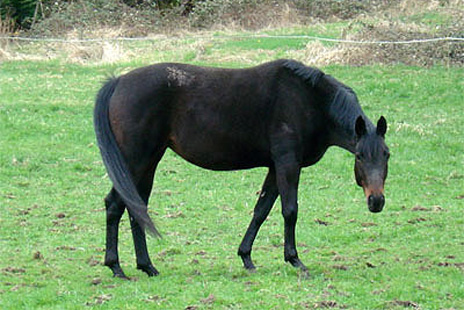 Violetta was reserve champion with 57 points at the central mare Registration at Reichshof/Westphalia, received her first training with Silke Engelhardt, took her mare's performance test and competed in dressage shows up to Elementary level. Arranged by the Engelhardt family, Violetta now lives in the USA with Silvana Bobba, who especially praises her wonderful character and exceptional gaits.
---
Pr.M. Kornblume XVII
Dam: St.Pr.& Pr.M. Kainda Dam sire: EH Tuareg
Owner: Reitsport-Dierstorf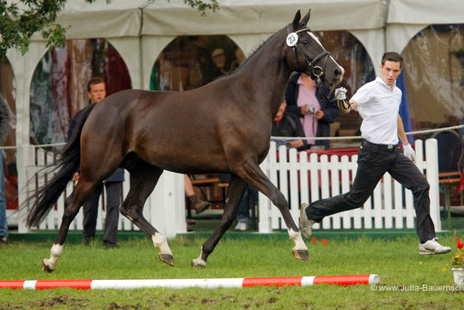 Kornblume was unbeatable at the central mare's Registration of the breeding area Niedersachsen-Hannover with outstanding movements and won her class with 57 points. In the following year 2009 she received the 1d prize at the Trakehner federal mare's show in Hannover. Her breeding career started soundly with foals by Hibiskus, Couracius and Freudenfest.
---
Pr.M. Cammee
Dam: Calliope Dam sire: Arogno
Owner: Raili family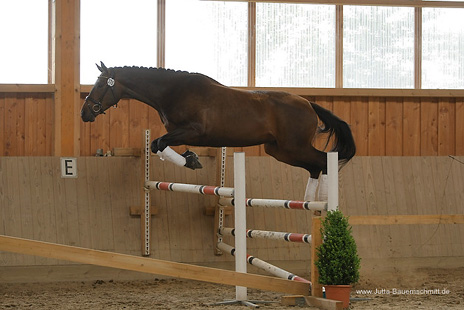 Cammee is a long-legged, thoroughbred-marked sport horse. She showed herself superbly at the federal show in the class of show-jumping mares and was awarded premium prospect at the central mare's Registration at Mainburg in 2009. She was presented again in 2011, increased her marks to 54 points, passed her mare's performance test at 7,14 with highlights at loose jumping. She now has the title Premium mar.
---
Dakota
Dam: Distel III Dam sire: Heldenberg
Owner: Dr. Judith Keidel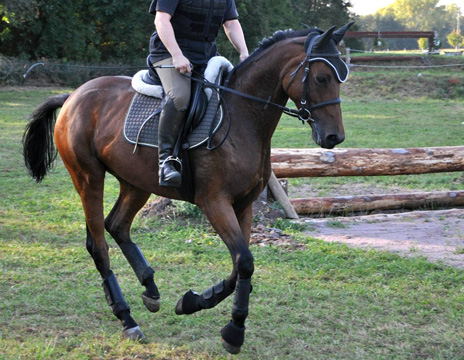 The typey and athletic Dakota stems from a family known for high performance. This daughter of Donaufischer is bred very interestingly joining Sevillano XX with the jumping genes of Heldenberg, Donaumonarch and Nerv in the back of her pedigree. According to her descent Dakota is an athletic, powerful horse which wants to be worked and challenged. Especially across country she shows her full potential under her rider and owner.
---