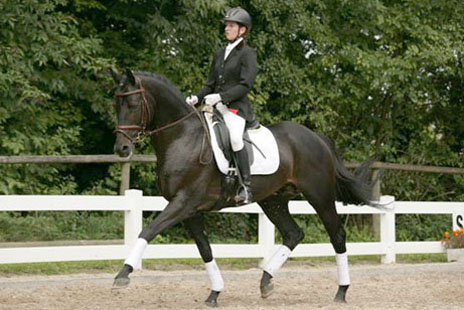 DONAUFISCHER 09/02610/99, brown, 16.2 hands / 20,8 cm (cannon bone)
Mare's family: A3A3 Donaufuerstin (Wahler-Klosterhof Medingen)
Breeder: Burkhard Wahler, Bad Bevensen, Germany
Owner: "Hoelle Stables" Kurt Eberhardt, Ines Steinmacher, Austria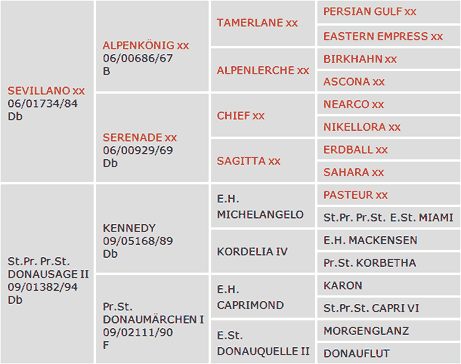 Career:
Premium Stallion of the "Trakehner Main Licensing" at Neumuenster/Germany in 2001
Stallion performance test 2003 at Radegast/Germany
Licensed sons:
Perlentaucher, licensed at the Trakehner licensing at Muenster-Handorf 2009
Registered daughters:
17 (until 2011)
St.Pr.& Pr.M. Chanell VIII, St.Pr.& Pr.M. Godelia, Pr.M. Violetta (reserve Champion of the Westfalian mare's registration), Pr.prospect Donaufischerin I, St.Pr.& Pr.M. Pergamon, Pr.M. Kornblume (Champion of the registration in Niedersachsen/Hannover), Pr.pr. Donaufürstin (best 4-y-o at the central registration Schleswig-Holstein), St.Pr.&Pr.M. Mona Lisa (best 4-y-o at the mare's performance test Rheinland), St.Pr.& Pr.M. Donaufischerin II (reserve Champion 4-y-o at the mare's registration Hessen), Pr.M. Cammee, Pr.pr. Pommernlied, Ameise IV, Elegance IV, Donauschwalbe, Träumchen, La Dujardine, Gluecksstern
Description:
With wonderful clearness of type, Premium stallion Donaufischer is a half-bred with significant format and best recommendation of his elitist pedigree. Generous in conformation he excites with his impressive uphill movements with lots of momentum and elasticity from his active hindquarters. Apart from his big canter and powerful trot this significant thoroughbred son is distinguished by his ground covering, relaxed walk, marked by ideal regularity. He has a beautiful disposition with inner calmness, strong character and high trainability.
Sire: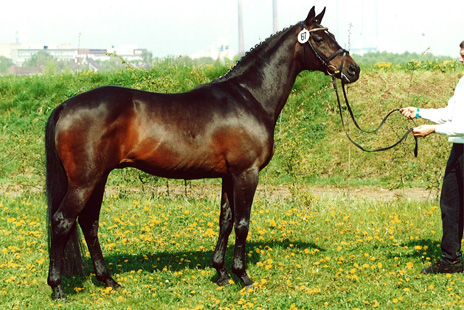 Sevillano XX at his licensing at Leverkusen/Germany 2002
Donaufischer is the only licensed Trakehner offspring of the precious thoroughbred Sevillano XX, son of the derby winner Alpenkoenig XX and grandson of the tough Chief XX. Sevillano XX has left several licensed sons for the Oldenburg Sport Horse breed, expensive auction horses and premium mares.
Dam: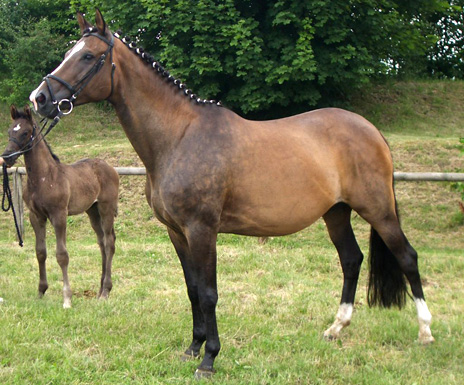 Donausage with her colt Donaukavalier by Songline
His dam, St.Pr.& Pr.M. Donausage II is one of the best daughters of the unforgotten Trakehner Champion Kennedy who died much too early. She impresses with her wonderful conformation and perfect canter. Her dam, Pr.M. Donaumaerchen I was part of the much acclaimed two-time National Champion Family of the Elite Mare Donauquelle v. Klosterhof.
Donaufischer's mare's dynasty of Donaufuerstin (Wahler-Klosterhof Medingen) is one of the most precious mare families of the Trakehner breed on account of the security of heredity and successful progeny in sports. Close relatives are Donaumonarch and Donauprints, the dressage stallion Donaukaiser, successful up to advanced level, the Premium stallion and rideability champion Donaufels, the reserve champion Donaugold and Donauzauber, reliable sire even at his young age.
Donaufischer's crop is in the centre of Trakehner breeder's attention: in seldom seen and wonderful evenness his progeny presents itself noble, with classical Trakehner type, graceful self-carriage and above all big moments in all movements. Donaufischer had numerous champion and reserve champion foals in- and outside of Germany which received highest marks.
His daughters represent their father perfectly at the mare registrations, most of them ranking in front places; almost 80 % were awarded premium prospect status and have been awarded the titles premium and state premium mare.
Donaufischer's first licensed son Perlentaucher convinced at the spring licensing at Muenster-Handorf in 2009 by his beauty, perfect type and movements above average with highlights in walk and canter. He collected wins and placements at his first shows for young sport horses. His high rideability always impresses.
The breeding value estimation 2011 for conformation ranks Donaufischer among the best 10 of all Trakehner stallions with a sum of 128 points. All 8 criteria are way above average. Especially for upper body and walk his progeny receive high marks, which makes Donaufischer with an index of 147 for walk only second to Michelangelo.
Donaufischer reliably improves type, conformation, movements and guarantees high rideability.
Erhard Schulte (translation by Elisabeth Wimmer)